Welcome to Quilters Unlimited!
NATIONALLY KNOWN QUILTER COMING IN MAY!
Free program Thursday, May 12 — all are welcome!
Workshops Fri. 5/13 and Sat 5/14
Join us for our May Guild Meeting on Thursday, May 12 from 6:00-8:00 p.m.
The May meeting will be at Timberlane Church of Christ located at 3569 Timberlane School Road.
Visit with your quilter friends from 6-6:30 followed by announcements, door prizes, Show & Tell, and the monthly program, Denyse Schmidt, author, quilt pattern and fabric designer, and creator of custom and couture quilts. If you are unfamiliar with her work, you can see examples of her quilts and learn more about her at her website.
Denyse will also be leading two workshops May 13 & 14 at the Woodville Community Center from 10:00 am – 4:30 pm.
May 13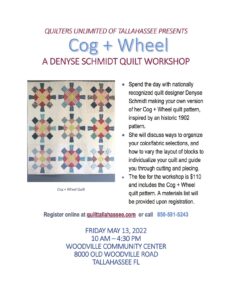 Cog and Wheel Quilt Workshop,
Woodville Community Center
10:00 am – 4:30 pm
Cog + Wheel Quilt Along Workshop (Piecing)
Cog-Wheel-Poster.pdfInspired by a quilt pattern from 1902, Cog + Wheel hurtles us back to the industrial age with a playfully bold graphic that rolls right on any bed. Spend the day with Denyse making your own version of her Cog + Wheel quilt pattern! We'll discuss ways to organize our color/fabric selections, and how to vary the layout of blocks to individualize your quilt. She'll guide you through cutting and piecing, and we'll have time to discuss how quilts reflect our culture and historic context.
Materials List for Cog + Wheel Workshop
May 14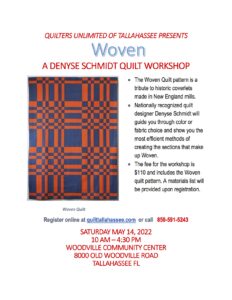 Woven Quilt Workshop
Woodville Community Center
10:00 am – 4:30 pm
Woven Quilt (Piecing)
My Woven Quilt pattern is a tribute to historic coverlets made in New England mills near where Denyse grew up and woven by hand around the U.S. The graphic effect of this pattern can be softened or accentuated by fabric choices – choose two solid fabrics close in hue or value for a quieter effect, or strong complimentary colors for maximum impact. You can also make this pattern in a range of print fabrics. Your choice! In this workshop she'll guide you through color or fabric choice/placement and show you the most efficient methods of making the sections that compose Woven. You won't complete your quilt top in the workshop, but you'll be well on your way to doing so once you get home.
Materials List for Woven Workshop
---
Guild Meeting Location, Invitation, Communication, Edification, and Participation
Location: LEROY COLLINS MAIN LIBRARY (Park Avenue branch) ROOM A, Tallahassee, Florida. (Please send mail to: P.O. Box 12181, Tallahassee, Florida 32317)
Invitation: We invite you to attend the Quilters Unlimited general Guild meetings. To join the Guild, please see the Membership page for instructions.
Communication: The Guild newsletter, Around the Block, is published monthly about a week prior to the general meeting. Copies are mailed to any member without access to the internet.

Non-Facebook members are able to view posts on the Quilter's Unlimited Facebook page because it is an "open to public" viewable page.  For those Guild members who are on Facebook, we encourage you to take a look at our page, and maybe even "Like" it and "Follow" it. If you follow, you'll receive the occasional email about upcoming events. When you do, please Share it so your friends will see what's happening!
Edification: A wide variety of books, magazines, and videos in the QU library are available for loan to members. The Guild sponsors workshops by nationally known quilters as well as classes by Guild members. Attendance is open first to Guild members, but if room is still available as a class or workshop date approaches, non-members are invited to sign up.
Participation: Members can participate in the many Guild-sponsored activities — and a wide variety of opportunities exist! You can help with the Guild's annual opportunity quilt, make quilts to hang in the annual show at the Museum of Florida History or the triennial show at City Hall, make items for the museum show's silent auction or a challenge quilt, make quilts for various philanthropic causes, or join a Sit-N-Stitch to meet and have fun with a smaller group between regular Guild meetings. We sponsor a yearly bus trip to QuiltFest Jax. And members' projects are always welcomed for the monthly "Show and Tell."
Show and Tell Photos
Show and Tell photos have been moved to separate pages to allow the home page to load more quickly. Click on a year to see its gallery. Enjoy!
#QuiltGuildTally