Quilters Unlimited Philanthropy
Quilters Unlimited provides members with numerous opportunities to put their skills to use in ways that benefit our community. Whether you want to work individually or as part of a group, you are sure to find one or more activities that you'll want to explore.
Occasionally, a "challenge" may be issued to the membership to make a targeted quantity of specific items by a certain date, but unless otherwise specified in the following information, donations are heartily welcomed in any number, at any time!
From time to time, additional requests for help from quilters and seamstresses come to the guild via email to officers, inquiries posted to our Facebook page, or through individual members.  When these mesh with guild objectives, they are passed along to the membership in our newsletter, via email blasts, and/or announcements at monthly meetings.
Bits and Pieces
This "Sit-n-Stitch" group meets monthly on the first Tuesday of the month from 11:00 am to 3 PM at the Eastside library- occasionally this room is not available, so check with us to be sure we will be there before your first visit.
Our members make quilts, pillowcases and other handmade items to be donated to anyone needing some comfort. We also give to charitable organizations serving community needs, and to local charities and institutions needing fund-raising assistance for their projects. Recipients have included: Sew for Hope, Sleep in Heavenly Peace, Quilts of Valor, The Tallahassee Museum, Hang Tough, and Big Bend Hospice.
We welcome new members and feel it is a great way to get involved with our local quilt community. All levels of sewing skills from novice to experienced are represented in our group.
Fabric donations and financial gifts have made it possible for Bits and Pieces to "share the warmth." If you have fabric you no longer care for, or if a friend or relative is downsizing their stash, please think of us. If we can not use the donation, we will find someone else who can benefit from it. Feel free to call or write any time.
Guild Contact:  Jeanne Brenner
Ear-Saving Headbands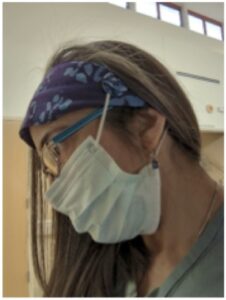 We have a new opportunity for QU members to help healthcare workers by making headbands to keep their masks' elastic bands off of their ears. QU member Janet Taylor's sister (left) and nieces, who work in healthcare, love the comfort of their headbands.
Janet has put together written instructions for making these stylish headbands. You only need 1 Fat Quarter (makes two); batting; ½ inch elastic; 4 buttons (2 of 1 inch; 2 of ½ or ¾ inch).
Janet will be our contact person with our local hospitals to offer these ear-saving headbands to our local healthcare workers.
Lap Quilts for Sleep in Heavenly Peace Children
The Tallahassee chapter of SHP is an all volunteer organization, which has been very busy building and delivering bunk beds for children in our area. The SHP motto is: No kid sleeps on the floor in our town!
Mattresses, mattress covers, pillows, sheet sets, and a comforter are delivered and set up along with the beds.
Bunk beds are available for children age 5-17.
Quilters Unlimited would like to provide a lap quilt to as many recipients as possible. Many of the residences are very bare…adding warmth and color is a joy for both the giver and receiver.
Quilts should measure around 40" x 60".
When our quilts are given to a family, we would like for every child in the family to receive a quilt at the same time. An all or none situation. This applies to younger children who don't qualify for a bed. So some smaller quilts for younger family members are needed.
Our donated quilts have been enthusiastically received by the children and SHP volunteers.
Fleece backed quilts are a very quick and easy option- no batting is needed – a quilt as you go project. Fleece, cotton fabrics, batting, backing and quilt kits are available by request.
Sew4Hope and Bits and Pieces sit and stitch groups encourage others to join them in making quilts for this worthy cause, whether at home or by coming to one of their meetings.
QU contact person is Diane Fogarty
DAR Lap Quilts for Veterans
Lap quilts made by members of Quilters Unlimited and others are given to veterans confined to wheelchairs, to wounded service members in hospitals, and to retirees in convalescent and retirement homes.  The general theme for these lap quilts is "Thank you for your service".
Suggested sizes include:
30″ x 30″
34″ x 40″
45″ x 60″
The smaller sizes are suitable for use in wheelchairs, where they will not cause mobility problems.
Consider including a pocket on the quilt for incidentals such as eyeglasses, keys, or coins (optional).  Another option is a hanging sleeve on the back of the quilt, should the recipient want to display it on the wall.  All colors and designs are welcome but a patriotic theme is particularly appreciated.  Although there are female veterans, most of the recipients will be men.
If you know a veteran who would benefit from having one of these lap quilts, please provide their contact information to our president using our contact form https://quilttallahassee.com/contact-us/ .
Guild Contact: Danie Griffin-Turner
In 2018, Guild members made 106 lap quilts for veterans. These photos show some of them "on parade" at the July meeting.





Here are some from 2019.
Big Bend Hospice
Bed and Laptop quilts measuring roughly 40″ x 60″ in any theme including Veteran.  Pillowcases are also made all year round.  Instructions for pillowcases can be found in the Lessons section of Projects and Activities.
Guild Contact:  Ann Gaber
Fidget Quilts
Quilters Unlimited also makes fidget quilts for seniors with dementia.  These are small lap-sized "quilts" with several different fabrics and textures, and with activities using beads, zippers, and other fidget-worthy items.  We supply these to Big Bend Hospice, Westminster, and other organizations as the need arises.
Guild Contact: Carol Eskola
Kennel Quilts
Treats, Inc. is a non-profit organization that pays for spaying and neutering animals, and they sell kennel quilts donated by the guild to raise money for their organization.  Small kennel quilts may increase the chances of adoption for animals at shelters by making their overall appearance more attractive; therefore the guild also shares some of these kennel quilts with the Leon County Animal Shelter.
The sizes for these quilts, which are suitable for cats and small dogs, are:
22″ x 30″
29″ x 32.5″
Quilts must be machine-pieced and machine-quilted, using only good quality cotton fabric; cat and dog prints add to the appeal of these quilts.  Do not use any flannel or "fuzzy" fabrics as these are harmful to cats.
Guild Contact: Roberta Granville
Or drop off at the Leon County Animal Shelter
Pet Beds from Sewing Scraps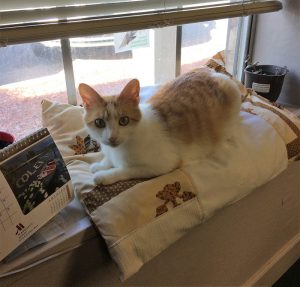 Cats love our pet beds!  These are donated to the Leon County Humane Society.  Pet beds may also be donated to the Tallahassee Animal Services Board.
Pet bed filler: Just toss those fabric scraps you collect while making quilts into a bag and they will be used to fill these pet beds instead of going into a landfill.
Batting scraps can be included with the fabric scraps.
Cut up large scraps so that they won't make a lump in the filler.
Do not include any needles, pins, other metals, or any metallic or plastics among scraps to be used as filler.
If you don't want to make a cover, bring those bags of scraps to our guild contact at a monthly guild meeting.
Outer Covers:
Outer covers should be of heavy cotton fabric such as denim or canvas.  Finished dimensions are 22″ x 28″ or any size between 20″ wide and 30″ long.
Do not use metallic or rayon fabrics for the outer cover, as cats will shred these.
Do not use flannel, corduroy or fuzzy fabrics for the outer cover, since the cats will lick these with unfortunate results!
Our guild contact can give you an outer cover to fill if you don't want to make your own.
Guild Contact:  Roberta Granville
Quilts of Valor
The mission of the Quilts of Valor (QOV) Foundation is to cover service members and veterans touched by war with comforting and healing quilts.
Refer to https://www.qovf.org/quilters-questions/ for specific requirements and instructions for making a QOV.  Be sure to adhere exactly to those specifications.  We ask that you not use yellow in the quilt.  Bring your completed Quilt of Valor, in its matching or coordinating Presentation Case, to the monthly guild meeting that will be specified early in the year (usually the June meeting).
Guild Contact:  Roberta Granville
Roberta Granville and Peggy Clark presented the quilts to the 2019 Honorees.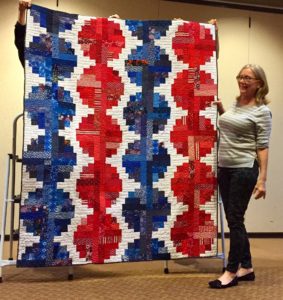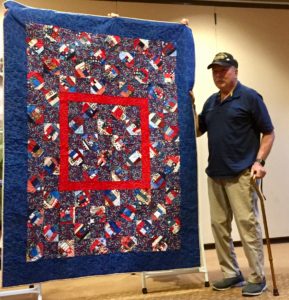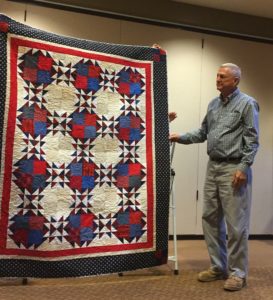 These are the recipients and their quilts at the July 2018 presentation.
Rags2Bags
Rags2Bags, a subcommittee of Sustainable Tallahassee, makes reusable shopping bags from donated fabric, using donated machines and volunteer labor.  These bags, rather than being sold, are given away at various events to encourage people to stop using single-use plastic bags.  In 2018, Rags2Bags gave away approximately 3,000 bags, primarily at the LeMoyne Arts Chain of Parks Art Festival in April but at many other smaller venues as well.
This group meets 1:00–3:30 PM each Thursday at the Manna House of Faith Presbyterian Church, 2200 N. Meridian Road, Tallahassee, FL 32303.  Manna House is behind the church office building.  Just show up to make bags and help with other tasks, sewing and non-sewing. Download instructions HERE.
Guild Contacts: Peggy Sanford, Pam Doffek
Senior Center Donations
The Senior Center at 1400 N. Monroe Street provides a wide variety of activities for the area's senior citizens.  They accept donations of fabric, quilting supplies, and magazines.  These can be dropped off at the center's reception area Monday through Friday, 7:30 AM – 5:30 PM.  Donations may also be brought to Guild meetings, or contact Michele Hackmeyer for pickup arrangements.
Guild Contact:  Michele Hackmeyer              Senior Center Contact: Gena Varn
Sew for HOPE
The Sew for HOPE Sit-n-Stitch group make quilts and blankets which are given to children who are homeless, impoverished, or in crisis.  Recipients include children who reside at HOPE Community Homeless Shelter, children in the PAEC Migrant Farm Worker Summer Day Care Program, and children with autism who are enrolled at Play Big Therapy Center.
This group meets on the first and third Saturdays of the month, 10:00 AM – 3:00 PM with a lunch break 11:30 – 12:30, at ARTS After School, 3510 Weems Road.
Donations of fabric/coordinating solids yardage (no scraps, please), batting, and backing material are accepted.  Contact the Sit-n-Stitch group coordinator for current needs.
Click HERE for information on the accepted sizes.
Guild Contacts:  Cynthia Seyler, Judy Rainbrook
Tallahassee Memorial Hospital Neonatal Intensive Care Unit Quilts
(TMH NICU Quilts)
Members of the guild have been creating tiny quilts for the Tallahassee Memorial Hospital Neonatal Intensive Care Unit for several years. The quilt fits on top of the sheet and the baby is place on top of the quilt.  Specifications for these quilts are on our website via a link in the TMH NICU information on the Philanthropy tab.  The size ranges from 15″ x 22″ to 17″ x 25″.
Soothing colors and patterns are preferred since stimulation needs to be kept to a minimum.  Quilt tops should be made of all cotton fabrics, including cotton flannels.  Batting can be either polyester or cotton.  Backing may also be polyester, such as "Minky," or may be cotton.  Machine quilt and machine bind them, keeping them free of embellishment.
If you would like to make a larger quilt (36″ x 36″) to go home with a baby whose family could use the support, the NICU nursing supervisor will hold these in her office and dispense of them as she deems appropriate. Please click HERE for specific instructions.
Bring NICU quilts to a monthly guild meeting and give them to our guild contact.  Hint:  This is the perfect project to use when practicing your machine quilting technique!
Guild Contact:  Shelley Woodyard
Walk to Remember
The Healthy Start Coalition counsels families in our community who have experienced either a pregnancy loss or the loss of an infant.  Healthy Start has asked us to provide signature blocks as needed.  Each year a member puts the blocks, signed by family members, into a quilt.  These quilts are displayed each year at the healthy Start Annual "Walk to Remember" held in October at Lake Ella.
When signature blocks are needed an announcement will be made at a guild meeting to enlist help from the members.
From time to time we are also asked to provide appliqued "Angel Blocks."  These are framed as an award and place on a wall at their office, thanking community members having made donations over a certain amount to this organization.  When these blocks are needed, patterns and instructions will be provided at a guild meeting along with all other necessary information.
Guild Contact:  Cheryl Willis
Pillows for Breast Cancer Patients
Placed between a seat belt and the patient's chest to cushion it. Use the instructions HERE and bring your finished pillow(s) to a guild meeting. Jeanne Brenner will give them to Cancer Treatment Centers to distribute to their patients. 
---