Workshops & Classes
2020 WORKSHOPS and CLASSES
"Workshops" are taught by outside presenters.
"Classes" are taught by Guild members.
BOTH ARE WONDERFUL!
---
TWO WORKSHOPS with SUSAN CLEVELAND
The Susan Cleveland Workshops have been rescheduled to September 2021
Workshop 1: Bodacious Big Thread Appliqué and More
Workshop 2: Piping Hot Curves – Macaroni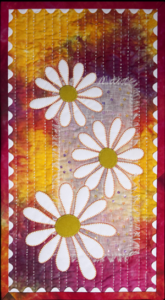 Susan Cleveland is an award-winning quilter from Minnesota. Ellen's work mixes vibrant colors with piecing, appliqué, and embellishment techniques. You can check out her work at https://piecesbewithyou.com.
Classes are $75.00
Location: Woodville Community Center
Time: 10 am – 4:30 pm
---
2019 WORKSHOPS and CLASSES
TWO WORKSHOPS with ELLEN LINDNER
March 15 was: Floral Improv
March 16 was: Double Reverse Appliqué

Here are the creations from the Double Reverse Appliqué workshop!

Ellen Lindner is a visiting teacher from
Melbourne, Fl. Ellen's work is diverse, ranging
from pictorial still life to modern abstract. She
is well known for her fabric collage and art
quilts. Please check out her work at
https://Adventurequilter.com
---
JEANNE BRENNER

—

GLORY STARS
June 15, 10a.m. to 3p.m.
$30
at Chaires Community Center
There will be instructions for making this in three sizes: small lap (wheelchair-friendly), lap, and twin.
---
PAM DOFFEK —

SERENDIPITY BLOCK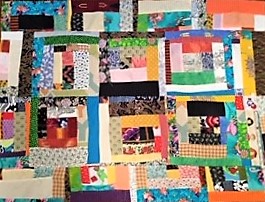 July 13:
$30.00
Woodville Community Center
Bring only scraps and learn how to make this wonky Log Cabin Block.
"Surrender to the freedom of Serendipity of using scraps (yours or mine) to make blocks any size and then turn them into quilts (placemats, table runners, etc.) any size.  This technique I developed 10 years ago as part of my "Many Ways to Crazy" series is liberating, relaxing  and creative building at the same time.  No precutting needed, no fabric coordinating (but I'll explain the steps if you want), no ¼" seam requirement;  just find your groove and learn a great technique to use all  scraps and strips from 2" square to full yardage (although ½ yd. or less is perfect).
Use my scraps or yours.  Bring a scissors and a machine with a regular presser foot.  You can easily finish a neo-natal size top or bigger in class.  Class samples are only examples of 2 possible ways to put the blocks together.  We will discuss other options and block/layouts for sizes from neonatal to King are included in the handouts.   Full supply list with paid enrollment.
If you already like the serendipity of scrap projects, or you just want to loosen up a bit, this is the class for you."  Pam Doffek
---
Other Lessons