Workshops & Classes
"Workshops" are taught by outside presenters.
"Classes" are taught by Guild members.
Coming in May
Denyse Schmidt, author, quilt pattern and fabric designer, and creator of custom and couture quilts, will be presenting a lecture and two workshops May 12 – 14. If you are unfamiliar with her work, you can see examples of her quilts and learn more about her at her website.
May 12
Quilters Unlimited Meeting Lecture
Denyse Schmidt, quilt designer and author
Timberlane Church of Christ, 3569 Timberlane School Rd.
6:00-8:00 pm
May 13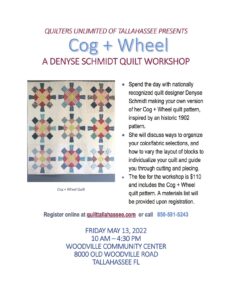 Cog and Wheel Quilt Workshop,
Woodville Community Center
10:00 am – 4:30 pm
Cog + Wheel Quilt Along Workshop (Piecing)
Cog-Wheel-Poster.pdfInspired by a quilt pattern from 1902, Cog + Wheel hurtles us back to the industrial age with a playfully bold graphic that rolls right on any bed. Spend the day with Denyse making your own version of her Cog + Wheel quilt pattern! We'll discuss ways to organize our color/fabric selections, and how to vary the layout of blocks to individualize your quilt. She'll guide you through cutting and piecing, and we'll have time to discuss how quilts reflect our culture and historic context.
Materials List for Cog + Wheel Workshop
May 14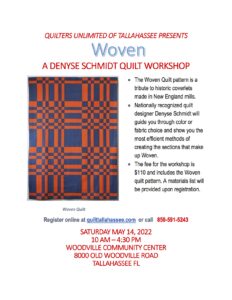 Woven Quilt Workshop
Woodville Community Center
10:00 am – 4:30 pm
Woven Quilt (Piecing)
My Woven Quilt pattern is a tribute to historic coverlets made in New England mills near where Denyse grew up and woven by hand around the U.S. The graphic effect of this pattern can be softened or accentuated by fabric choices – choose two solid fabrics close in hue or value for a quieter effect, or strong complimentary colors for maximum impact. You can also make this pattern in a range of print fabrics. Your choice! In this workshop she'll guide you through color or fabric choice/placement and show you the most efficient methods of making the sections that compose Woven. You won't complete your quilt top in the workshop, but you'll be well on your way to doing so once you get home.
Materials List for Woven Workshop
Other Lessons