Skornia Lesson 1 Half-Square Triangles and HST with Squares
Sue Skornia's presentation at the Q.U. Guild meeting in June 2019 is presented in a series of lessons. This one covers:
Half-Square Triangles & Combinations of Half-Square Triangles with Squares
Please scroll to the bottom for links to the rest of the lessons
Trip Around the World with Half-Square Triangles  
12 blocks across, 12 blocks down = 144 total. Final Size: 66 1/2″ x 66 1/2″ before borders
Make in quarters, then sew together, and quilt all together.
Fabric Needed:
12 light fat quarters
12 dark fat quarters
1¼ yards (inner border and binding)
1½ yards (border)
4 yards backing fabric
Cut: 
Six (6) 7″ squares from each fat quarter (144 total)
Eight (8) 2½" x 42″ strips for inner border
Nine (9) 2½" x 42″ strips for binding
Nine (9) 5½" x 42″ strips for outer border
Assemble
Draw diagonal lines on back of light squares (half in one direction, half in other, if directional)
Place right side to right side with dark squares (check to see if directional) and pin across line.
Sew ¼" from the line on both sides. Cut on line. Press toward the dark square.
Trim to 6½ inches square.   Lay out each quarter to form pattern (See photo)
Sew into rows. Press toward solid square. Sew rows together, press up or down.
Layer, pin, and quilt in the ditch vertically and horizontally, center out toward all 4 sides.
Quilt diagonally along the diagonal seam lines, around each diamond and out to each corner.
Add borders. Quilt in borders. Add binding.
Pinwheels Lap Quilt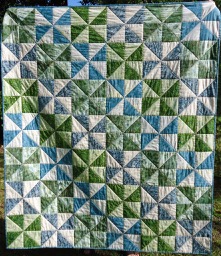 Size: 45″ x 45″ before borders
This plan is for 5 blocks of 5 different pinwheels, for them to be visualized.
Cut a total of 50, 5 1/2 inch squares of dark fabrics and 50, 5 1/2″ squares of light fabrics, 10 from each of 10 fabrics.
Using the quick method, make half-square triangles, using one light and one dark for each, in groups of at least 2, to make each pinwheel block. This quilt can also be laid out and put together in rows of half-square triangles using the diagram below, if 5 different combinations of light and dark are used.
Comfort
Made entirely with half-square triangles.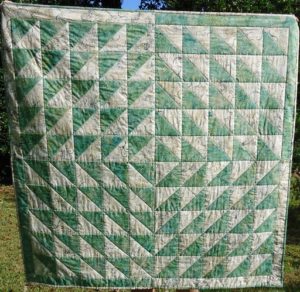 Friendship Star
Made with half-square triangles and squares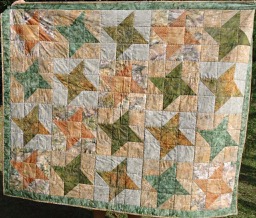 ---
More Lessons from Sue Skornia's Presentation
General Instructions for Making and Completing Quilts
Lesson 2: Quarter-Square Triangles (hour glass) & Combinations of Quarter-Square Triangles with Squares
Lesson 3: Combination of Half-Square Triangles and Quarter-Square Triangles with Squares
Lesson 4: One-Quarter Triangle Square 
Lesson 5: Floating Star
---