Programs for Monthly Meetings
We are back to meeting in person while wearing masks and social distancing
2020 Program Plans
January – Trunk Show with Karen Kunz
Karen Kunz has amassed a large collection of quilts created from vintage quilt kits. She will share some of those finished projects along with information about kits from the 40's, 50's 60's and 70's.
February – "Modern Traditionalism"
There are traditional quilts. There are art quilts. There are modern quilts and now "modern traditionalism".  Erica Thaler is one such quilter and will show us her modern interpretation of traditional quilting.  We also want to see your quilts that fit this emerging trend.
March – Wooden Quilts by Jim Sherraden
Tennessee artisan, Jim Sherraden will present Wooden Quilts, his multi-dimensional compositions that are sure to appeal to quilt lovers.
April – Trash to Treasure Sale — POSTPONED
Time to round up your surplus quilting and sewing goods.  Reserve your table now to sell your stuff or come with cash to shop for a bargain. Something new this year. Non-profit groups will also be a part of the sale.
May – Guest Speaker: Susan Cleveland — POSTPONED to September 2021
June – Studio 180 Rulers with Gail Renna — POSTPONED
Gail Renna will introduce us to Studio 180 Rulers and the wonderful projects that you can create with these tools.
July – Quilts of Valor presentations — CANCELLED
Roberta Granville will lead us as we honor and show our gratitude to Veterans with Quilt of Valor presentations. We also hope to collect a generous pile of lap quilts for our Veterans.
August – Quarantine Show and Tell — CANCELLED
Most of us will have completed several projects during our quarantine time. Since the 2020 Museum Quilt Show has been canceled, we will have to postpone the Challenge Quilt Reveal until 2021 as well. Share what you created during our down time via our virtual show and tell page instead of in-person. Think of it as the QU version of "How I Spent My Summer Vacation."
September – Trunk Show with Christy Gregg — CANCELLED
Christy Gregg inherited an enormous quantity of unfinished quilts and will share her quest to complete them.
October – Trunk Show featuring The Grateful Threads — CANCELLED
Live! At the gathering of QU…It's the Grateful Threads! Not to be confused with the 80's rock group, Grateful Dead, but these ladies do rock! Come and enjoy this performance, I mean trunk show, presented by this sit and stitch group.
November – "Strut Your Stuff!" — CANCELLED
A guild wide trunk show featuring bags, purses, totes, pouches and other quilty creations. We all have a great bag, purse or tote, especially the one of a kind type that we make with our beautiful quilt fabrics. Now is the time to come strut your stuff and show us your favorites. We also want to see your crafty creations such as sewing machine covers, thread catchers, organizers, etc. You may just walk away with some last-minute holiday gift ideas.
December – End of Year Fun and What's to Come — CANCELLED
Potluck dinner, join us to celebrate a year of quilting and companionship.
 2019 Program Plans
January – "The Evolution of a Quilter" – Trunk Show by Janet Hughes
---
February – "We Love Our National Quilt Shows"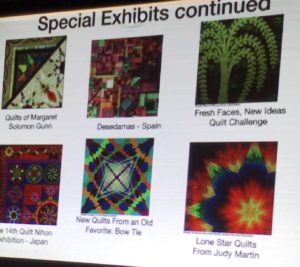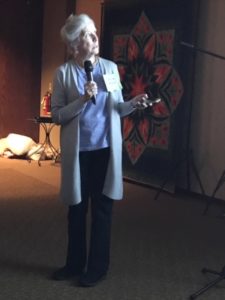 Marsha Walper gathered information on entering quilts at national shows that take place in our region of the country.
QU members who had a quilt accepted at a national show, brought them and talked about their quilts and the process of entering.
Gallery of members' national-quilt-show quilts Spreadsheet of information about the shows.
---
March – Ellen Lindner, Speaker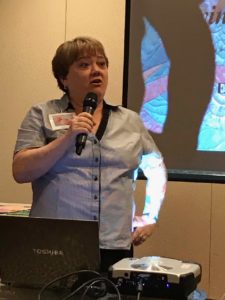 ---
April – "The Value of Value in a Quilt"
---
May – "Value does All the Work, but Color is Fun"
---
June –  "Fun Quilts to Make & Quilt on Regular Machines – Patterns Available" – Sue Skornia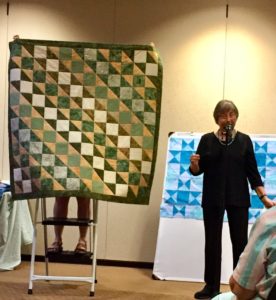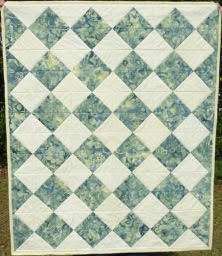 Sue's lessons are now posted on the Lessons page!
---
July – "Quilts of Valor"
August –  "Too Pretty to Cut: Focus Fabric & Panels"
---
September – "Quilters and their UFO Completion Challenges" and QU Challenge Quilt Reveal and Judging  – "Autumn Reverie"
---
October – "How to Avoid Wavy Borders" – Marianne Clower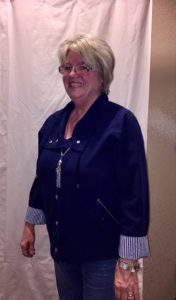 Marianne shared tips on wavy borders and much more! Most importantly, she shared her willingness to help when you have a quilt question. Her Q&A segment was excellent.  It's no surprise so many QU members are customers of the Quilt Peddler.
---
November – "Quilters' Tricks" 
The inimitable Pam Doffek shared tips from her lifetime of quilting (and other sewing) experience! Click HERE to see those tips or find them on the LESSONS page.
---
---
December – "QU Dinner Party"
2020 Program Plans
January
February
March
April
May:  Susan Cleveland's presentation to the Guild May 14 (workshops May 15 & 16)
Check out her website https://PiecesBeWithYou.com
June
July
August
September
October
November
December