Meetings and Programs
LOCATION
At the moment, meetings are being held at Temple Israel located at 2215 Mahan Drive.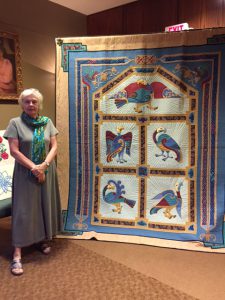 MEETING SCHEDULE
General Meetings of Quilters Unlimited are held on the second Thursday of each month.
6:00-6:30 p.m.: Check out books, sign up for workshops, enter door prize drawings, and visit with old and new members.

6:30 p.m.: Business meeting (announcements by President, Officers, Committee Chairs, etc.) followed by the door prizes drawing, Block of the Month, a Program, and Show and Tell. See the Newsletters and Calendar pages for Program topics or click HERE for current plans. For more information on some of the topics that might be addressed in the business meeting, check out the Activities & Projects section.