Meetings and Programs
LOCATION
Currently, meetings are being held in the social hall at Temple Israel; 2215 Mahan Drive.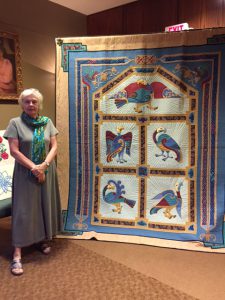 MEETING SCHEDULE
General Meetings of Quilters Unlimited are held on the second Thursday of each month.
6:00–6:30 p.m.: Check out books, sign up for workshops, enter door-prize drawings, shop the "free-to-good-home" sharing table, and visit with old and new members.

6:30 p.m.: Business meeting (announcements by President, Officers, Committee Chairs, etc.) followed by the Door Prizes drawing, Block of the Month, a Program, and Show and Tell. For more information on some of the topics that might be addressed in the business meeting, check out the Activities & Projects section.