Guild Library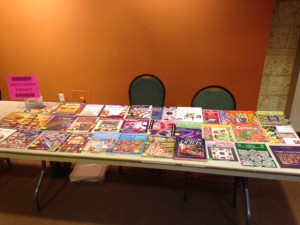 The Guild has an excellent selection of books that cover all aspects of quilting. Guild members are invited to suggest new books for purchase by our librarian. Also, members often donate books they have found particularly helpful. The library is a useful resource for everyone, especially new quilters.
Our meeting location does not have storage space for the Guild library, so our full selection of books is not available for browsing prior to meetings.  Our Librarian will bring books that members have reserved to guild meetings for check-outs (as well as her selections of some books for browsing). You can reserve a book from the QU Library by emailing the Librarian, Michele Hackmeyer, at mbhackmeyer@ngsouth.net
Donations are welcome at the guild library. If you have any books you no longer treasure, please consider donating them for all to use. If they are duplicates of what we already have, they will be sold to help purchase other volumes of interest. Also, if you have made a quilt using a book we do have in our library, you can help spread the excitement by bringing it to a meeting. You can view the QU library inventory by Title or by Author or by Category (updated October 2021).
We ask that members try to return borrowed books after one month. In cases where this isn't possible, please renew your check-out book status with our friendly Librarian.