Block of the Month
2018 Block of the Month —

remember that you can turn in BOMs from ANY month at the November Guild meeting!
It's going to be a year of holidays.
Some will be familiar like News Years, some not so familiar like Pi(e) Day.  But they will all challenge and excite you (we hope).
Every month we will offer an applique pattern and either a pieced or foundation pattern (or both pieced and foundation).   We don't care what applique technique(s) you use; do what makes your heart happy.  We've made some color suggestions some months and left it scrappy for others.  We want everyone to feel they can make a block (or 2 or 3 or…) at their comfort level or perhaps try something new.
Lyn Geariety and Pam Doffek will collect the completed blocks and turn them into nap quilts for the Temple Israel PreSchool Nursery or other QU philanthropic efforts (but not cat quilts), so be prolific in your BOM!!!
(applique) and lanterns (pieced with templates or rotary cutting, OR foundation piecing).
Please note:  DO NOT USE THE PAPER PIECING FOUNDATIONS IN THE FILE "QU2018BOM-JanuaryLanternTemplatesAndRotary"  use the file:  QU2018BOM-JanuaryLanternFoundation-update
QU2018BOM-JanuaryLanternTemplatesAndRotary
QU2018BOM-JanuaryFireworks
january lantern foundation-updated
So….any kind of appliqué, any color background, not limited to solids. There are 3 pages of fireworks appliqué pieces, some have small and medium, some have medium and large sized pieces.
February 2018: Mardi Gras — Ribbon, Drunkard's Path

March 2018: π Day — It's Pi day on March 14th,
so let's celebrate with piecing, applique and foundation blocks.
Use pie colors of your choice (strawberry, apple, boysenberry, "crust" etc.).
Pick the method(s) of your choice and be creative. Click the link next to a picture to download the full-size file.
QU2018BOM-MarchFoundationPiSymbol
April — National Arbor Day  — More details are in the March newsletter.  Please click the file names below to download the pdf files, which include directions.
QU 2018 April BOM trees-Applique   April trees rotary-foundation
 There's only 1 pattern this month. We're encouraging people to make their favorite basket pattern and maybe a flower (pattern not included)
  QU 2018 May BOM Basket .
National Watermelon Month is celebrated in August. And in keeping with the red, luscious fruit theme Lyn Geariety and Pam Doffek present you with a 4-patch/9-patch challenge as well as an applique watermelon slice for you to interpret. Using the provided patterns make a 12.5" unfinished block that reminds you of watermelon. Pull out your watermelon fabrics, find those dots, reds, greens, pinks and whites (maybe even yellows as there are new hybrids all the time.) Make a basic block with exciting colors. For those of you who are more adventurous, how about an Irish Chain, 16- or 25- patch block…more pieces are better.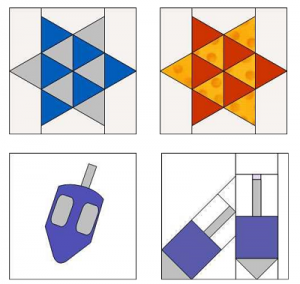 November: Pizza! We're celebrating the month after national pizza month!
We're going to celebrate pizza in fabric. Use your choice of a pieced 9-Patch
(representing a deep dish pizza) or Fan pattern (representing thin crust pizza). Decorate
with your favorite toppings (yoyo) pepperoni; round rings for onions; green/red/yellow
pieces for peppers; use food fabrics, let your imagination go wild! All blocks should be 12
½" unfinished. See the pattern download for color suggestions (before toppings…)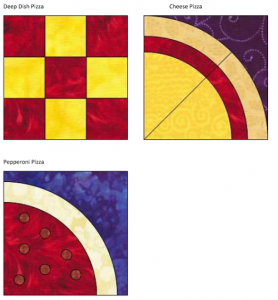 2017 Block of the Month
In 2017 the blocks were collected and sewn into a quilt that was donated to Sew For Hope, which makes quilts for children in local homeless shelters.
General Instructions for the 2017 Block of the Month