Programs for Monthly Meetings
2018 Program Plans
January – "Honey, I Shrunk the Quilts!"
Get ready for a trunk show with Mona Snowden featuring her collection of miniature quilts. Mona has a great collection of miniature quilts and stories to go along with them. If you have ever seen her quilts from past trunk shows, then you know that we are in for a real treat.
February – "From Good to Great: the impact of embellishment and other techniques"
There are numerous ways to enhance your quilts with some very small changes.  We will detail six techniques, show you samples and give you pointers for each technique. You will also get an up-close look at before and after blocks so that you can see the impact, side by side, that will take your quilts from good to great. Plan to bring a quilt that you embellished in some way. Did you add some embroidery, lace or buttons? Perhaps you added some yo-yo's or even a bit of applique to a pieced quilt. We will all look forward to seeing your technique that "took it up a notch."
March – Trunk Show featuring the group "Appliqué Addicts"
This sit & stitch group can be considered some of our guild's finest appliquérs and needle-workers. They will showcase their handiwork and it is guaranteed to awe and inspire you.
April – Mini Demonstrations
Four stations were arranged around the room for you to get up close and personal, learn and ask questions.
---
Station: Perfect Circles: Marsha Walper showed two methods to make perfectly smooth, round circles for hand applique. We were amazed how easy these techniques are.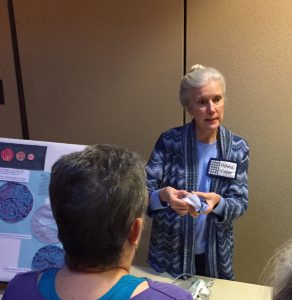 ---
Station: Folded Flower: Linda O'Sullivan demonstrated how to create a folded flowers from several starting shapes.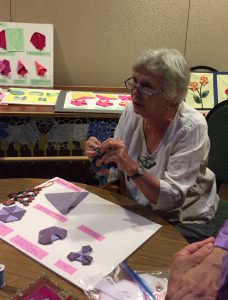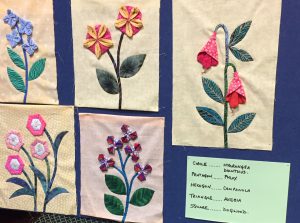 ---
Station: Flying Geese: Two easy methods to create a flying geese unit were demonstrated. Both methods are easy and will result in faster creation and uniform units for your quilts. Download the lesson HERE.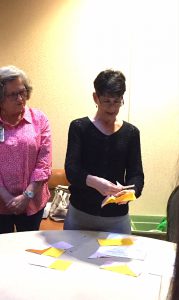 ---
Station: Hexagons with English Paper Piecing: Karen Kunz will show you her organized method and share easy tips for creating hexagons with the English paper piecing method.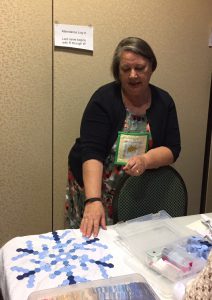 ---
May – Guest Speaker: Suzanne Marshall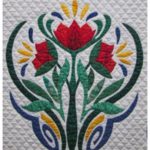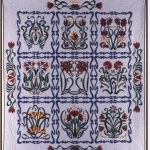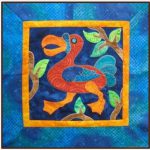 Suzanne Marshall came to the May 2018 meeting with her award-winning appliqued quilts. Her presentation, letting us in on the judges' comments, good and bad, about her entries into major shows, was delightful!
Pictures of the quilts Suzanne Marshall brought with her are included in the photo gallery on the home page of quilts shown at 2018 meetings. Suzanne also gave a slide show of many more of her quilts. You can download the pdf of photos of the screen as they were projected by clicking:  Suzanne Marshall slide show at QU May 2018 meeting
Learn to make an Art Nouveau block or Wacky Bird at one of her workshops!
June – "Stitcher Friendly Advice for Everybody!"
Hours spent quilting, working on crafts, or sitting at a computer take a toll on our body. Yoga can help relieve tension, relax muscles, and counteract the effects of repetitive movements.  Hattie Pennie and Dawn Griffin will share some yoga poses and stretches to help reduce tension and stress in your shoulders, neck, arms and wrists that can be done sitting in a chair or standing. No yoga experience is necessary. A yoga mat is not required. Please wear loose, comfortable clothing and supportive, non-slip shoes. Participating in this program will feel so sweet. Namaste.
July – Quilts of Valor presentations and philanthropic challenge reveal
Roberta Granville will lead us as we honor and show our gratitude to Veterans with quilt of valor presentations. Following the presentations, we will showcase our philanthropic challenge of 100 lap quilts for Veterans. (Note: pending the Museum Quilt Show dates, the July and August programs may be reversed.)
August – Challenge Quilt Reveal
(Note: pending the Museum Quilt Show dates, the July and August programs may be reversed.)
September – "Creativity and Companionship in a Sit-n- Stitch"
Marsha Walper will lead a group discussion delving into the values of belonging to a sit-n-stitch group.
October – "Don't Dread the Dresden"
Wendy Stone will demonstrate an easy way to make the Dresden plate and share a variety of projects, both traditional and modern, that utilize this block and method.
November – "Strut Your Stuff!"
A guild wide trunk show featuring bags, purses, totes, pouches and other quilty creations. We all have a great bag, purse or tote, especially the one of a kind type that we make with our beautiful quilt fabrics. Now is the time to come strut your stuff and show us your favorites. We also want to see your crafty creations such as sewing machine covers, thread catchers, organizers, etc. You may just walk away with some last-minute holiday gift ideas.
December – End of Year Fun and What's to Come
details to follow
---
2017 Program Plans
JANUARY:
"Upset the Fruit Basket" – meet and greet new quilters, find out new things about old friends.
Wasn't this fun?  Remember to greet all those
new friends you made at the January QU meeting.
FEBRUARY:
"HST"
Half Square Triangles — How many ways can you make them? What to do with them? Let's take a look at one of the more widely used quilt sub-units.
The HST-related show-and-tell was a revelation!
MARCH:
"1/4-Inch Seams and Other Details: Why They Matter."
It's always good to review the basics.
APRIL 13
To Show or not …"I am so proud" or "pearls before swine"?????????
MAY 11
Guest speaker: Sharon Schamber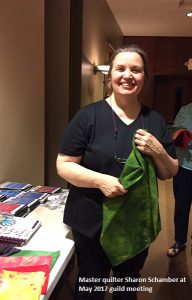 This master quilter surprised and delighted the guild by letting us touch her award-winning quilts and the appliqué blocks she's working on!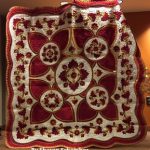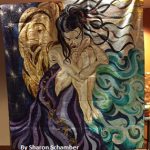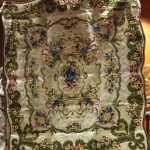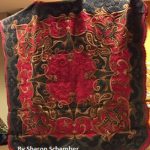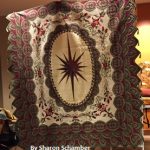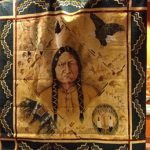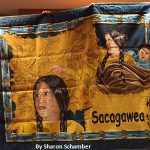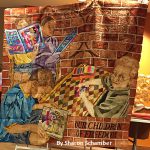 JUNE 8
TRASH TO TREASURES
Start your Spring cleaning now and find treasures to sell or swap with other QU members.
Tables are still at the low, low price of $5.00 each, with proceeds going to the Guild.
Don't miss this opportunity to buy and sell. Remember all those neo-natal quilts Pam Doffek made with fabric from a previous sale?
Email or call Program Chair Barbara Wiggins before June 1 to reserve your table.
JULY 13: Challenge Quilts
Take a "Sentimental Journey" down the display of creativity to see the diverse ways quilters interpreted the same theme and set of rules. VOTE on creativity, technical achievement, and more!
AUGUST 10
This will probably be related to the Museum show.
SEPTEMBER 14
Seminole-Style Patchwork
Guest speaker
October, November, and December details are still in the works.