2018 Annual Capital City Quilt Show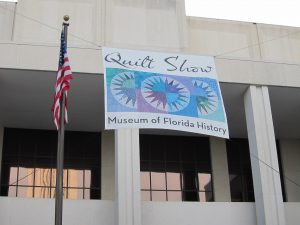 The 2018 Annual Capital City Quilt Show at the Museum of Florida History, 500 S. Bronough St., will open with a reception on August 31 and close on October 28.
Important Dates
Entry deadline: midnight of July 12 
Challenge Quilt voting: at the QU meeting August 9
Quilt turn-in at the museum: August 18, 10 AM – Noon
Opening Reception: August 30, 5:30-7:30 PM
Opening of the Show: August 31
Closing of the Show: October 28
Quilt pick-up at the museum: November 3, 10 AM – Noon
YOU MUST BE A "QU" MEMBER TO ENTER A QUILT IN THE MUSEUM QUILT SHOW!
NOTE: Because of water-intrusion issues, the museum cannot hang king-size quilts. The size limit is 10,000 square inches. (Measure carefully before you start sewing on the hanging sleeve, etc.)
PREPARING YOUR QUILT FOR THE SHOW
Sew on a hanging sleeve that will allow for the thickness of the board used to hang it at the Museum. (Click HERE for instructions.)
Sew a label on the back of your quilt, showing the following:
Made by (your name) OR Made and quilted by (if you did both)


Title of the Quilt




Year Completed




Where Completed




Quilted by (if different from maker)

Put your name and phone number on a pillowcase to protect the quilt.

Make sure your quilt is free of loose threads, hairs, dust etc. using a lint roller and/or by airing it in a dryer.

Bring your labeled quilt to the museum in the pillowcase.
ENTRY FORM
Use the form below to enter.
But first, a few notes:
1. If you are entering more than one quilt, clear your browser between entries. (Some browsers have been causing problems on a second entry.)
2. If you want someone to help you with your entry, please contact Barbara Wiggins.
4. When your entry is complete, you will receive a confirmation by email. If you don't receive a confirmation message, it means your quilt was not entered. Please try again. If that doesn't work, please contact Sue Isaac.
No more quilts may be entered for the 2018 museum show.
OPTIONAL: Download a paper version of this form to fill out and give to the person who will be doing the online entry for you. museum show 2018 paper entry form