Workshops & Lessons
2018 WORKSHOPS
JEANNE BRENNER: SLIVERS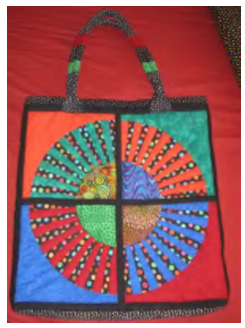 Learn how to make curves with slivers in them without paper piecing. Jeanne Brenner will be teaching "How to Make Slivers".
For those interested in making a Big, Bright, Beautiful bag like Jeanne's, this will be the first of 3 classes to complete a bag.
Price: $20
Saturday, February 10
10:00 a.m. – 2:00 p.m.
At the Woodville Community Center
8000 Old Woodville Rd, Tallahassee, FL 32305
Please sign up at the Guild meeting or contact Ruth Cuzzort or Jeanne Brenner to register.
---
FEATHERWEIGHT CLASS  — JOHNNY JOHNSTON
April 14, 2018
10AM – 3 PM
Woodville Community Center
Learn how to repair & maintain your featherweight.
Cost $55.00
---
SUZANNE MARSHALL: TAKE AWAY APPLIQUÉ & WACKY BIRDS
Quilter extraordinaire Suzanne Marshall will be teaching two workshops for us in May 2018.
On Friday, May 11, she will teach her take away appliqué technique and how to smooth curves on one of the blocks from her award winning Art Nouveau quilt.
On Saturday, May 12, she will cover the take away technique again with four wacky birds patterns, plus how embroidery can enhance your blocks.
Each workshop will be a full day session — 6 hours at the Chaires Community Center, starting at 10 am.
Fee: $60
Don't miss out on this chance to learn from a master quilter!
Both classes are now open to members and non-members.
Come join us for a wonderful day of applique.
If you are interested in taking one or both classes a waiting list be started immediately.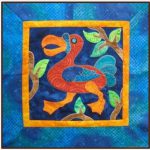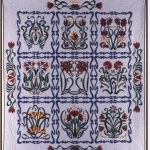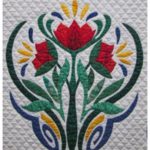 Two Suzanne Marshall books are available from the guild library: Adventure & Appliqué and Quilts from Concept to Contest.
---
JEANNE BRENNER: SLIVERS CLASS — PART 2
Join Jeanne Brenner for part 2 of the Slivers Bag Class.
We will be making the funky chicken.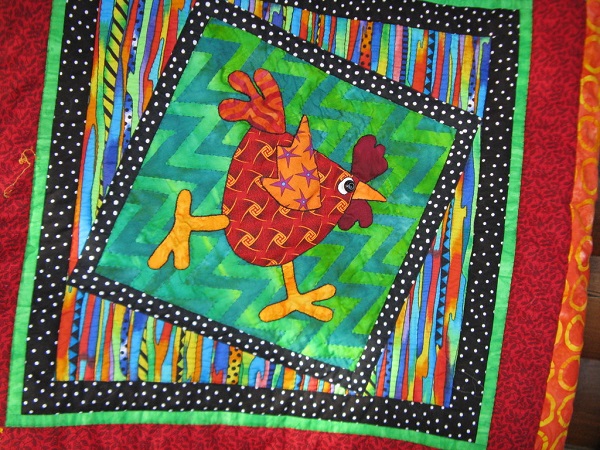 Saturday, August 11
10 a.m. – 4 p.m.
Woodville Community Center
$30.00
Sign up at guild or contact Ruth Cuzzort


Other Lessons